Self Esteem .. take the challenge.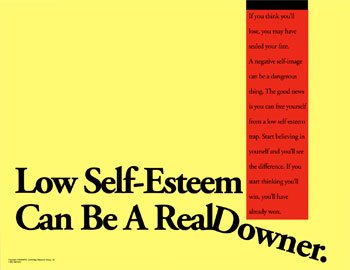 Canada
January 12, 2007 4:00am CST
Recently a friend of mine put up a challenge, and as it turned out, it was more difficult for most of us to complete than we had thought it would be. I wanted to present it here and see what results it would gather. The idea is basically this. Consider yourself in terms of what value you bring to a friendship. A friendship is based on the personalities and the positive attributes of the people involved. Each person has to be worth some value to the other in order to maintain a friendship, whether it's their sense of humor, their intelligence, their rational advise when need it, whatever. So here's the challenge. List off 10 positive attributes about yourself that make you valuable in a friendship. Can you do it? And would it surprise you to know that every person who participated in this challenge beforehand could much easier list off their negative traits than they could their positive?
5 responses

• United States
12 Jan 07
Let's see 10 positive attributes about myself: 1. I'm caring, 2.like to make people laugh, 3. can break up fights and get the two who were fighting to be friends again, 4. good listener, 5. Helpful when asked for it, 6. Can give good advice, 7. can hold intelligent conversations and be goofy at the same time, 8. I make it seem like life isn't as bad as some make it out to be, 9.meh, can't think of anything else. Although it may be easier to list of the negative parts of myself, I tend not to dwell on those and just try to improve. For the simple reason if a person dwells to much on the negative than it will eventually out weigh the all the positive that everyone has in them.

• Canada
12 Jan 07
Actually, that was the concessus we came to, that the reason we can list off our negative more easily is because we're more aware of them in an attempt to improve on them. For instance, when I did my challenge, the things I know I have to work on kept jumping into my head, while the positive I had to struggle with, for not wanting to ... boost my own ego so to speak? Just the way the mind works;) Thanks for the response:)

• United States
12 Jan 07
First off you're welcome! :) Second I apologize for my typos that I am just now seeing..lol I do see your point. But even though I do try to improve some of the things I consider to be "bad" things about myself I don't sit around and dwell on the negative side of things. Each person has their good and bad qualities and if people are constantly picky about a certain "bad" quality than it will start to over shadow the good qualities the person can contribute. I know I am a good person and if someone puts me down constantly for my faults (or negative aspects) than that person isn't really a friend to begin with. A true friend will like you no matter what your qualities may be.



• Philippines
12 Jan 07
Let me act for a moment that I'm your student in a Psychology class. Can you please elaborate further or perhaps rephrase the last statement. I understand you mean that as I go down the list, the more I see the negative traits. i.e. as I ponder on the positives, the more I see the negative ones and think that maybe I am not the one that I think I am. Is this what you're trying to point out?

• Canada
12 Jan 07
Not necessarily no, I just thought it would be interesting to point out that every person who has taken this challenge to date stated that, while they struggled with the ten positives, they would have had no trouble listing off ten negative ... it just seems like we're more aware of our downsides than our value in positive terms. The exercise itself is simple ... list off ten attributes that make you as a person valuable to a friendship. :)

• United States
21 Feb 07
1) I am unswervingly loyal to my friends. 2) I am optimistic and uplifting in spirit. 3) I am a good listener. 4) I am reliable to my word. 5) I am compassionate and loving. 6) I am tactful and considerate of the feelings of others. 7) Despite #6, I am honest when giving my opinion. 8) I have the self restraint, however, to not always give that opinion, especially if it is unsolicited. 9) I am creative and can inspire creativity in others. 10) I am always willing to lend a hand.