A Question for Ladies ?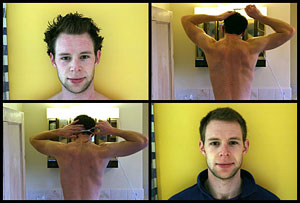 India
January 13, 2007 3:14am CST
If your in loving and trusting relationship would you let your boyfriend cut your hair.
6 responses


•
13 Jan 07
I do love my boyfriend but i wouldn't let him cut my hair and there is no way he would want to. He would be terrified or doing it wrong. If he was confident he wouldn't mess it up i would think about it but for me, it's the hairdressers or nowhere.

• India
13 Jan 07
love is the relation of trust.if u r really looking good then never in ur dreams ur girlfriend will ask u to erase that sign of smartness.so friends if ur girlfriend advise u for somethimg then accept it

• United States
13 Jan 07
I don't think it is really wise to let any one near your hair that has not had some training myself .I am lucky my sister is a hair dressor .Would I let the person I date near my hair only if they were a hair dressor then I might not I prefer my sister does it lol .

• Australia
13 Jan 07
I have only ever let my husband do my hair once. Instead of cutting off about an inch of hair he cut off about 4 inches so my hair was just below my ears. I cried so much. I have never ever let him near my hair with a pair of sissors since. That was 12 years ago. He is still not forgiven. lol

• Australia
13 Jan 07
I used to let a boyfriend of mine cut my hair or I should say trim, he usd to just trim it, but if a girl wants it styled and her boyfriend was not a hairdresser I don't think so, there is a difference between a cut and a style. :)