proud to be indian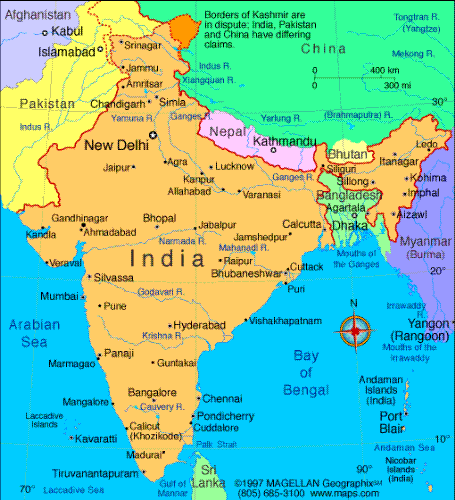 India
January 13, 2007 6:57am CST
hi do u know abt india? One-third the area of the United States, the Republic of India occupies most of the subcontinent of India in southern Asia. It borders on China in the northeast. Other neighbors are Pakistan on the west, Nepal and Bhutan on the north, and Burma and Bangladesh on the east. The country can be divided into three distinct geographic regions: the Himalayan region in the north, which contains some of the highest mountains in the world, the Gangetic Plain, and the plateau region in the south and central part. Its three great river systems—the Ganges, the Indus, and the Brahmaputra—have extensive deltas and all rise in the Himalayas. proud to be indian
10 responses

• India
13 Jan 07
These are not the things for which you have to be proud to be an Indian, but be for: Largest Democratic country, Best in IT, Unity in Diversity, Tradition, Culture, Relationships, Humanity,... a never ending list

• India
14 Jan 07
You are welcome, you have stated Indian greatness in geographical fashion and I tried to explain in the current development fashion, anyway it is good that you have started this topic so that it promotes others the greatness of India.


• India
13 Jan 07
i am an indian so i am proud of that

• India
13 Jan 07
hey pretty good information. But isn't it true that you just copied and pasted that stuff from somewhere else!I can understand because you just crossed 500. Good job buddy!

• India
4 Feb 07
yes dear u r write here is aal of these what u write in india have many languages also have many rivers and some are holy rivers where we are bathing and will remove our dieases and india have many temple and india hagve many types of peoples like many types of languages many types of cast likr (jaat , pandit , khurana , sharma , ror , bhutani also many more )....india's heart is delhi ....

• Indonesia
4 Feb 07
that is good country i know. but, where country is you live...there is your own best life and you must keep and care about it.

• India
3 Feb 07
m an indian too and m proud to be an indian... great india great indians

• India
16 Jan 07
I understand your feeling and love towards your country, but Why do you limit your sight with the geografical boundries? Who laid them? Have you measured your criterias outside your nation? Why are you so sure that no where else your wishes and asumptions not true? I friendly advice you to open your mind enlarge and expand the window of your eyes. The mankind on our planet is same as you are.