After a divorce.......can u really still be friends?

United States
9 responses

• United States
14 Jan 07

• United States
14 Jan 07
when they can be good friends,why they want to divorce?

• United States
14 Jan 07
they got along really poorly when married, they justmake better friends

• United States
15 Jan 07
Yes, My x and myself are still the best of friends. He actually have himself a girlfriend now. We had no ties to hold us meaning we didn't share any kids. Most people ask why be friends if you don't share children. I believe for starters it's how the divorce can be. We had a pretty decent divorce even though i wanted the divorce. Now we can talk every now and then or even go out. I have met his new love and she is comfortable knowing we are strickly friends. So yes I would say you can be friends after a divorce

• United States
16 Jan 07
U don't feel anything when u see ur ex with his new love?But great to hear being friends even when u don't have kids.

• Australia
14 Jan 07
In some cases yes. It really depends on why the divorce happened and if there are kids involved. And some people get re-married after being divorced. I believe people can be friends after being divorced. Generally once divorced and living seperately the reason for the seperation is gone and the people can have a friendly relationship instead.

• United States
14 Jan 07
if they can be true friends ,then it will end up in re-marriage only.If there is a misunderstanding between the two people,then it breaks after that i think they can't be friends.If they can,then they will not be separate.

• Canada
14 Jan 07
Well, I don't know that people can/should to be "friends" but, if there were children in the relationship, you're always going to be parents of those children. It pays to be as civil as you can be, in my opinion. I can have a conversation on the phone with my ex or we can email back and forth about an issue involving the kids and there is no problem. He moved across the country, though, so it's not like he has any day to day involvement in their lives.

• United States
14 Jan 07
I can accept with u in the case of having kids.But still i can say they can't be true friends.do u agree with me?


• United States
14 Jan 07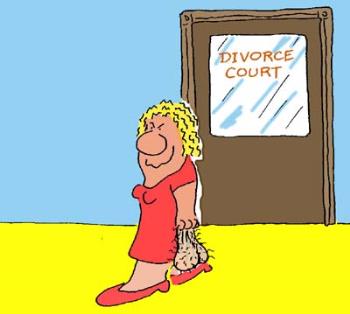 I would like to believe so. I think it really depends on the reason for divorce, the time in between getting the divorce and when you attempt a relationship, etc. I hope you can at least be civil, especially for those who have kids. I know, been there.. done that. Burned the tee shirt! lol Note the little joke pic below!!! lol

• Indonesia
14 Jan 07
why not? usually divorce caused of disharmony in their marriage life not in their personal life. after divorce they can still be friends, maybe better than their marriage relationship

• United States
14 Jan 07
what does it mean?what is marraige life and what is personal life?


• United States
14 Jan 07
I think it depends. My divorce ended badly & we were both really young. I think I have talked to him maybe 2 times in the last 9 years. We both grew up & went completley different ways in life. I do think we could be civil & friends now. I don't think that would have been possible years ago though.