have sleeping been your problem?

Philippines
11 responses

• Philippines
31 Jan 07
I do sometimes suffer from insomnia. I don't know sometimes it just get's me, it doens't really happen very often though when it occurs it gives me trouble. It can even give me a bad mood on the other day.

• Philippines
31 Jan 07
I don't really like milk that much. It makes my tummy ache really bad...so I guess I'm going to pass on that one.

• South Africa
24 Aug 07
Try using some good relaxation techniques like yoga and self hypnosis.

• Philippines
1 Apr 07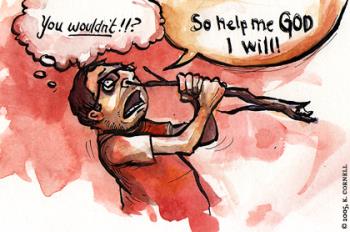 yeah we know that fact and we are doing that actually. But what if your partner is far away from you, i mean like you are not together coz your partner is working in other country, so how's that? It would be hard right? So what we need to know is the alternative solution to cure the insomnia. Do you have any suggestions about on how to cure the insomnia? Have a nice day ahead from Francis.

• India
31 Jan 07
i use to sleep alot....... i have this pblm do u any solution


• India
23 Jan 07
is that really true can u refer me some articles on net or else u can forward supporting the same.. i heard people having milk in night only on there wedding night reason very well know to us, but if u says is good for sleep then we should stop the tradition for wedding nights...

•
23 Jan 07
Sometimes getting to sleep is easy, but waking up in the night and then remaining awake is a problem.

• Philippines
23 Jan 07
hehehe, i agree. i have insomnia, and this seems to work great forhe me. hehehe, though my girlfriend says that she cant "help" me with my insomnia all of the time, though she'll try her best. hahaha!

• India
16 Jan 07
i think meditation is the best way. it really works for me.

• India
14 Jan 07
sound sleep was a problem for me at a point of time...but now i have overcome this problem of mine...i did a lot of yoga n meditation to get out of this problem...and now i enjoy sound sleep...