mosquito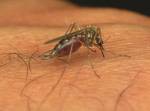 India
7 responses

• United States
14 Jan 07
I could not sujess anything, you need to ask your doctor. newborn skin is so sensative.

• United States
14 Jan 07
If You can find avon products You can buy skin so soft.It works to prevent mosquito bites and is good for the skin.

• United States
14 Jan 07
I thought about that I think the baby is too young for that.


• India
26 Dec 07
There is a kind of mesh available that prevents mosquitoes from entering your home. It is usually fixed on a wooden frame on your windows. If you may contact any carpenter you know, and ask whether he makes those frames for a "mosquito mesh", that should help you fix this. Besides, you can use a mosquito net made specially for babies. They are inexpensive.



• China
14 Jan 07
Usually, I use some herbal medicine here in China to prevent the mosquito bite. It's so useful.