Ganguly, gambhir or uthappa with Sachinas opener

India
January 14, 2007 10:55am CST
Take your pick guys, there are 4 openers selected in this team against West Indies. Also rahul dravid has opened in past year in one dayers. I will always prefer ganguly over uthappa and gambhir as he is an experienced player and who has opened a lot with sachin in the past
9 responses

• United States
18 Jan 07
I think Ganguly is the best opener with Sachin. Since they both make the best opening in the world and have proved themselves.

• India
18 Jan 07
put Ganguly bring it on sachin and saurav opening for INDIA thats the best thing which can happen to us in the past they were the BEST and soo many problems happened after that now let them combine for one last time and win us the world cup

• India
17 Jan 07
yes i think these players should get a chance to open ...india has tried everything so there is no harm in giving them chance..and its better that we find a good opening pair if india wants to win this world cup

• United States
15 Jan 07
i personally would prefer to see saurav ganguly to open the innings with sachin tendulkar. they have a great track record in the past and i think the right and left handed combination also should help, especially against the inexperienced bowling attack of the west indian one day international cricket team. this will also give ganguly the chance to play freely and without any additional pressure of being a few wickets down. he will also be able to attack if he wishes to. gambhir and uthappa are still young and their chances will come. anyways, they are a part of the squad and they can always be tried if ganguly fails in the initial games. yes, i think sachin-saurav opening combo would be great to watch after a very long while.

• India
15 Jan 07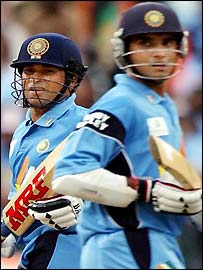 i think ganguly should open the innings with achin. he is well experienced & once he sticks then he will make a good score. it will make him to get more confidence & it will make us remember the old pair which was speading fire on the feild

• India
15 Jan 07
ganguly and sachin hold the record for scoring most runs as openers together, they should be tried again if they succedd it will be boom-boom time and kaif is not in team

•
14 Jan 07
Sachin and Ganguly should be the openers and Uthappa should be in the down order in place of dhoni and dhoni should be 2 down followed by yuvraj and kaif

• India
14 Jan 07
i think the pair of ganguly rocks they r the best opening pair they have piled more than 20 thousand runs so they r back for the wc2007 i bet u they r gonna rock big time