What type of pots should i use for my house plant?


India
January 14, 2007 11:11am CST
9 responses

• United States
16 Jan 07
Well, here's the low down on plastic pots and ceramic pots. Plastic pots, allow your plant's roots system to continue growing unlike a ceramic pot. When you use a plastic pot, and your keeping your plant healthy and allowing it to grow. Then you will constantly have to relocate the plant to larger and larger pots pretty much every year. If you use a ceramic pot, there is a coating on the inside of ceramic and clay pots that stops the root once it makes contact with the inner walls of the plant and the plants growth is either stopped or dramatically decreased. It doesn't hurt the plant but it keeps if from growing any larger than the pot and the plants size will remain the same every year. I learned this in my Current Horitculture classes I am taking.

• United States
16 Jan 07
Sorry, I missed typed something in the above response. On the 5th sentence where it says "Once it makes contact with the inner walls of the plant" I mean't to put " Once it makes contact with the inner walls of the pot" its a minor correction but I didn't want to confuse or cause problems for anyone.

• United States
17 Jan 07
I have always preferred the standard Terra Cotta pots. These allow drainage which is vital as well the pot itself will breath allowing air to the roots. Plastic or glazed clay pots will not allow air into the soil. I have used plastic and glazed with good results, but the best results are with the plain jane terra cotta. The most important thing is drainage.

• Pakistan
16 Jan 07
Well it depends that where you want to put these plants. If you want to put them outdoor then you can easily use clay pots and they are also the best way to grow the plants in. If you want to put your plants indoor then use some plastice pots or if you want to use clay pots for indoor then do one thing that decorate that pot by doing some paintings on it match it with the color of plant or with the color of room and then transfer your plant in it. I also use to decorate my claypots by making some paintings of leaf or flowers on it to keep it indoor or if I want to sell that pot with plant.

• India
16 Jan 07
hi s, try several varieties of philodendrons, roses, rubber plants, and even some lillies

• South Africa
15 Jan 07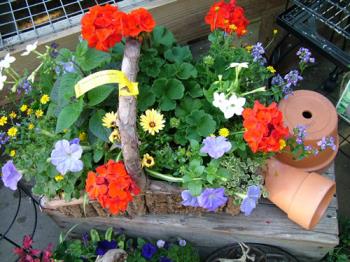 I use clay pots, they keep moist for longer and they look pretier than the plastic pots. There is so much you can do with these pots, you can put empty ones lying down next to your outdoor plants for decoration. You can paint designs on them to make them more personal. Even the broken ones pieces you can scatter around your plants in the garden for decorations.

• United States
15 Jan 07

clay pots will allow the whole situation to function more closely to how they are meant to grow. Plastic is cheaper and with monitoring by you you can keep your plants healthy and happy. It is up to you. With both you will need saucers below to catch any water that runs through.

• United States
14 Jan 07
You can put houseplants in any pot you like, as long as it has a hole in the bottom for drainage and it's big enough for the plant to spread its roots. I have only three houseplants right now, one in a ceramic pot and two in plastic pots.

• United States
14 Jan 07
I like either ceramic or clay pots for my inside house plants and I keep a little container underneath them so when the water drains from them it won't stain the carpet or tile.

• Ukraine
14 Jan 07
Yes, I have some decorative plants in my house. I use plastic and ceramic pots for them. The most basic rule is - the larger the plant the larger is the pot.