The ice sport bandy (like hockey)-- know anything about it?

United States
2 responses

• United States
15 Jan 07
It was originally sort of related to field hockey, and it's played with a ball. You can find some more information at Wikipedia.org, there are pictures and a history of the game as well.

• United States
15 Jan 07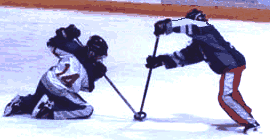 Interesting! I'm curious now and will have to look up more info for sure! We've played Ringette, which is like hockey only played 3 on 3, with just the hockey stick (no heel) and a ring instead of a puck. The idea is to get players to learn better skills with stick handling. It's pretty kewl too! I know they play it in Canada too, not sure about other places. I have an "action shot" picture below to show what I mean.