nuns in the bar! read then look at picture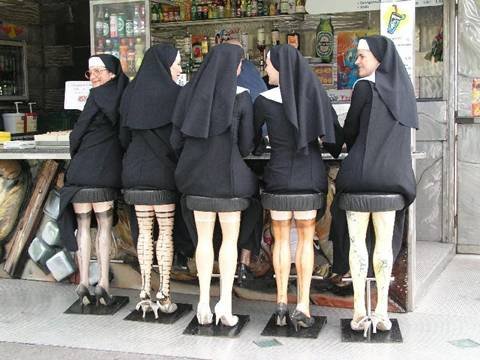 Australia
January 14, 2007 11:27pm CST
Sisters Mary Catherine, Maria Theresa, Katherine Marie, Rose Frances & Mary Kathleen left the convent on a trip to St. Patrick's Cathedral in New York City and were sight-seeing on a Tuesday in July. It was hot and humid in town and their traditional garb was making them so uncomfortable. They decided to stop in at Patty McGuire's Pub for a cold soft drink. Patty had recently added some special legs to his bar stools which were the talk of the fashionable eastside neighborhood. All 5 Nuns sat up at the bar and were enjoying their soft drinks when Monsignor Riley entered the bar through the front door with Father McGinty for a cold drink when they were shocked and almost fainted at what they saw.
5 responses


• Australia
15 Jan 07
This is one of the funniest photos i have seen in awhile,it is the fact that they are nuns that make it so funny. I love the stools woould love to have some for my bar they would get a few good laughs

• Australia
15 Jan 07
That is a funny one and looks quite convincing BEL.