Whose the best::: SPIDER MAN or SUPER MAN or BAT MAN or INDIAN KRISSH???

India
4 responses

• India
15 Jan 07
I think all movie are best only.It is very good movies.

• United States
15 Jan 07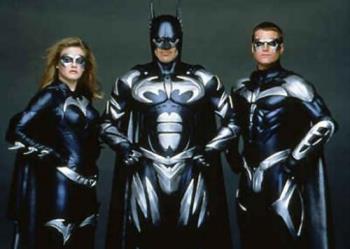 Well personally I think Batman is the best. I mean the man has no super powers what so ever and yet he risks his life to help others. He can easily be hurt or killed and yet he still does it. Spiderman would be second. His powers are cool:) and I wouldn't mind having them. He takes a lot of risks when he goes out to help people, especially since so many think of him as a bad guy thanks to Jonas but he still cares. Superman is a good superhero but lets face it unless you have Kryptonite he can't be hurt. What risk is he really taking?


• India
15 Jan 07
I think Bat man is the best superhero I have ever known because he is only superhero which does't have super powers and all he has is some tools and its human body and a sharp brain.I vote for superman.