What Is Body Language?

India
October 4, 2006 8:48am CST
Body language , Body language,,,, enough heared. what is this body language.?
4 responses

• India
2 Dec 06
This a well researched and still raging topic for the 'sales department' of various companies, worldwide! Body language is a better indicator of one's personality than one's verbal accounts/skills. For example, the gait(walking style) of a person reveals one's attitude. Some men walk daintily(womanly gait). This shows the 'genteel'or 'dandy' outlook of the man. Some men fling their hands out while explaining. Such movement indicates attempts to elaborate some 'profound' or 'unique' point! Some of the features of personality that are revealed by body language are: loquaciousness, stolidness, effiminate, irritability, nervous (biting nails,lips,perspiration,etc), calmness, poise, dominating personality, etc. This is too big a topic! One can go on and on.......

• India
2 Dec 06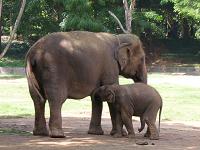 This is a sign language, probably came into being through the sports including cricket. Whenever a player is upset about himself or upset because of others, or whenever he fails to deliver the goods, his disappointment and anger shown through his actions either through hand(s), fingers, eyeball movement, or overall body movement, or through the sports articles they handle. Mostly referring to show of anger towards fellow players, players of opposite team or towards the umpires, linesmen etc. Many a times, the observers, match referees penalise such players.