are you in a wonderful relationship?

United States
9 responses

• United States
15 Jan 07
My relationship is the best. We have been together going on five years now. We have a great communication for starters. Also we were really good friends at first. We even tried to set each other up with other people before we realized we wanted to be with each other. He had custody of his three children. We had a son together. He helps with the house, kids, and makes me laugh. It's hard to tell it all with such little space, but I wouldn't trade him for the world.

• Canada
15 Jan 07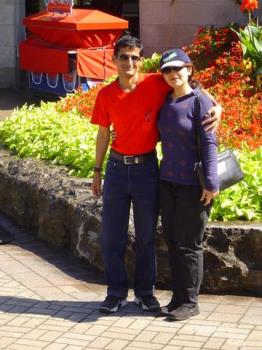 i am in a wonderful relationship. i am happily married with my husband and we have a very sweet little daughter together. My husband is very caring, loving and jolly person, we always have a good time together. the thing i liek about him is he always call me eevry after 2 hours from his job to assure me and baby are okk and safe at home, i really feel great when he call for asking me and baby. When you find a great partner then you probably feel like having heaven on earth. :-)

• United States
15 Jan 07
Iam the luckiest person alive since my partner is an angel.She float like a feather in a beautiful world.We really fight sometimes but it doesnt last long in an hour both of us apology for our mistake. She is the most beautiful.The most perfectest person.Iammmmmm theeeeee luckiest personnnnn.we have been together for 19 months now but eveneer i say i love you i feel like saying it for the first time.

•
15 Jan 07
Well I think so and it's because I dated and married my child hood sweet heart. We met when I was 11 and he was 12. We were just friends for about 8 years before I started giving him that strange look :-P I reckon it was almost 2 years after that, when he started feeling things for me. I never pushed nor did he. We keep focused on our own lives and doing our things until we just sort of admitted our feeling one day and then things just went natural from there. Now we are married and we have 2 wonderful little girls. I reckon we have been together for about 12 years now and things are still as good.



• Kuwait
15 Jan 07
Now me just looking for a partner n dreaming a wonder ful life..everything shared n so avoiding d term I as much as possible,without any ego n jealousy....

• Portugal
15 Jan 07
I am in a wonderful relationship for almost three years.we love each other very much and she is my best friend.I can count with her for everything i need and she´s always with me in the bad times,that´s why it´s so wonderful.

• Romania
15 Jan 07
I am in a wonderful relationship! I met the girl of my dreams one year ago and we are very happy together and in the near future we want to get married! Every thing we do is beautiful, even when we study together we are happy and we enjoy doing it!