how many of u think star(zodic) compatibility is important in marriage?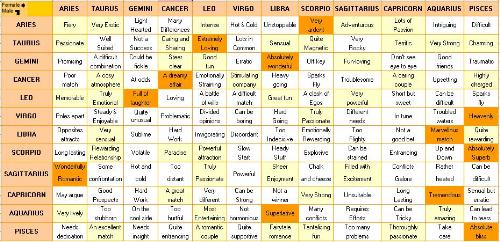 United Arab Emirates
January 15, 2007 5:25pm CST
how many of u think star compatibility is important in marriage or in any relationship?or do u ask thr star 1st b4 actuly geting married/starting a relationship or u just do not believe in it?im a cancerian and my bf was libran didnt work out at all!do u think it realy matters is it imp b4 u actuly start a relationship?how many of u asked ur bf/gf/wife/husband thr star b4 starting a relationships? do u think its important?http://ffguides.telefragged.com/fft/zodiac.shtml
10 responses

• Philippines
22 Jan 07
Knowing your partner's sign is important to me, but asking the star first before getting into a relationship doesn't really matter. Well if animals have breed that show their personalities, human beings have zodiac signs that also present their traits. Come to think of it, those zodiac traits usually correspond to our personalities, don't they?

• India
22 Jan 07
See If U already made ur BF & Chosed for live with him bcoz u attracted towards him. That nean in ur case some stars possitive both of ur zidic. may be some negetive stars also there. so ur life u v'e to make it. how can u understand & faith & know to him. if ur foundation is strong so teher ur zodic stars cant do anything alse. why zodic is important in that case when the two person are unknown & they r going to live one life. so there compires is here some similarity..

• India
22 Jan 07
no yar is it make difference in between the couple...,they want to understand themselves tht enough

• India
18 Jan 07
Being an INDIAN and ZODIAC believer. I would prefer to get it matched before we think of getting married. According to my personal experiences, i prefer not to take risk. Better check the compatibility first then get into new relation.

• India
17 Jan 07
I do not believe in zodiac compatibility. Maybe their are certain traits characteristic to some zodiac signs.....but they do not define a person. I ahve never asked a person about zodiac sign before getting into a relationship.

• India
17 Jan 07
Star compatibility is the degree to which 2 zodiac signs have qualities which are similar enough to create a comfort relationship.If we want the relation to keep long lasting and life will run deifinitely without any hurdles if the stars are compatible. Its very important point to consider because after marriage only the real life starts.

• India
17 Jan 07
I think it is superstition nothing else. How can a star match Your partner who itself didn't know how long they will exist on the sky? A marrige is divine thing. There only need a beautiful mind and life long understanding.

• Philippines
17 Jan 07
i dont think so, i dont blame those whose believe in astrological matters considering such things in marriage or in any form of relationship. if it works to some couple.. so let it be..i think it just a matter of chances.. talking bout marrigage or any relationship, there could be any more best ground than love ..dont u think so?

• India
16 Jan 07
im have no personal xperience in dis but i have seen one of my friend undergoin the same problem.she was in complete depression when she learnt that its better to believe in stars before goin to start an everlasting relationship(marriage).anywayz Aish and Abhishek also had to belive them.