Who you think is more important for you "Friend or Girlfriend"?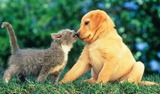 India
January 16, 2007 11:21am CST
Question is clear. Who you think is more inmportant in your life or who you think going to be with you forever.?Your dear friend or your lovely girlfriend!My experience:Once I was crying because of a girl in my life, I was insecure about that girl. but you know what I was crying more only because in all those days I was with her I was loosing my friendship with my friends. I called my friends back: They return next day. I did'nt call my girl back: I lost her. I don't know weather it was bad or good? Give me your comments.
1 response