Dogs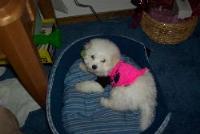 United States
October 4, 2006 7:21pm CST
Dogs can be so entertaining. What does your dog do to entertain you? mine will dance and beg for jelly beans. It is totally comical. I think one of these days we will video tape and send into funniest home videos. Tell me how your pet puts a smile on your face.
3 responses

• United States
8 Oct 06
I love dogs, I have many, but not at my apartment, not allowed to, i have an unknown breed, her name is Sunshine, then there's my Bichon Frishe Trixie, and Tinkerbelle a minature rat terrier (who has recentley passed on) Daisy my chow-chow and Gracy my Rot. They dont care about my faults, they just love to see me! and i love them!

• United States
9 Oct 06
Sunshine & Daisy are cute names. Sorry about Tinkerbelle, I'm sure you will miss her dearly. Nope, all dogs care about is kibble, and getting petted. so relaxing and a joy to be around.

• India
8 Oct 06
Dogs are a joy.I love my dog.

• United States
8 Oct 06
I've only had my puppy for 10 months. She brightens my day in her eager playfulness. Thank you for the reply.

• United States
8 Oct 06
Bulldogs are popular mascots, demonstrating the toughness of a team, and have become a symbol of tenacity throughout the world. The breed has widespread shoulders and a distinctive, rolling gait, making it recognizable anywhere.

• United States
13 Oct 06
Do you own a bulldog or just singing the praises of what they stand for? Do you have a picture of your dog that you can share? thanks for the reply