Do you pray regularly for the Troops in Iraq?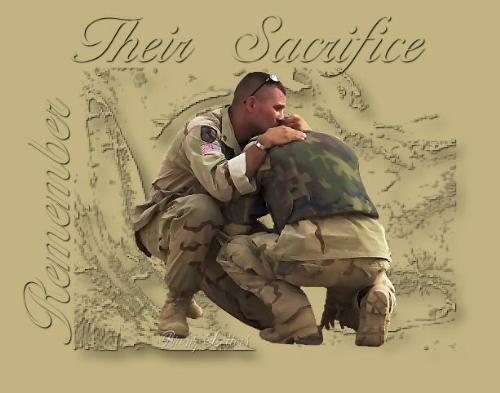 United States
January 16, 2007 4:51pm CST
I'm not asking if you agree with the war there or not. I am curious as to how many are praying for the Troops there, from all of the various countries. They're in my prayers daily.
8 responses


• United States
17 Jan 07
I can say that at least in todays world it's a lot better than back in other wars. With today's technology not only can many of them have some type of daily contact via email but with video cams and the ability to take pictures electronically and send them... they have so many more options to keep in touch. Although they all can't do it all the time. I'm not saying it's any easier though. And it is important to remember them and their families.

• United States
17 Jan 07
To tell you the truth, I haven't been praying for our men and women in Iraq. I don't know why I haven't. Bless you for doing so. I will start praying as well for them tonite and that they will all be home soon. I can't believe that a certain person wants to send more of our youngsters over there. Just bring the one's we have over there home, right NOW!

• United States
17 Jan 07
I'm glad I brought it to your attention. And I agree.. to see even more go over is sad. I just wish it would all end and the killing would stop. But as I stated, it's not a matter of right or wrong as much as it is... they need our prayers. Thanks for including them.

• United States
16 Jan 07
I do.. I pray daily for the safety of our troops everywhere. Especially in Iraq. One of my best friends was in Iraq for a year. It was very hard for him and his family. My brother is going to Iraq in Feb. He has a wife and 3 kids at home. He is stationed in Kansas right now and his family (us) live in NY and his wife's family live in Utah.. So this leaves my sister in law and neices and nephews in Kansas with no family. This is a tough sad situation. Please say many prayers for my brother in Feb.

• United States
17 Jan 07
I will definitely put in extra prayers for him and his family. It is truly a tough situation for anyone involved. And as I said, right or wrong, should we or shouldn't we is all set aside. They are humans and they are our countrymen. They deserve our love, adoration and most of all prayers and thanks.

• Ireland
16 Jan 07
I don't particulary pray for the troops in Iraq, I pray for people all over the world. I pray that the senseless killing of innocent people would stop and we could all live in harmony together. I never close my eyes at night without a prayer for them.

• United States
16 Jan 07
As a fellow member of the military, i do pray for my fellow militar member, I wish them a safe journy to and back from the desert and may then come home with honor

• United States
16 Jan 07
Thanks for that answer. And thanks even more for being a part of the militia that helps keep the US and our fellow human beings safe and free. For me it's not a matter of IF we should be there or WHY we are there. It's a matter of we ARE there and we need to support the troops there. Prayer is one of those ways to support them and I do believe they deserve special attention in our prayers.


•
16 Jan 07
I pray daily, sometimes not in details, but to just say thank you. However I often do pray God returns all the soldiers soon their loved ones. I also ask him to help heal the broken hearts caused by this war and help it to end.

• United States
16 Jan 07
I send them good thoughts and wish them well, but I'm hesitant to say I 'pray' for them. I hold them close in thoughts, though, and hope that they make it home safely. No matter where that home may be.