Have any lessons been learned since Princess Diana's Death?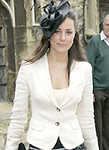 January 16, 2007 8:09pm CST
Do you think that the harassment of Prince Williams girlfriend by photographers is very similar to that of Princess Diana? As speculation mounts about a royal engagement Kates 25th birthday saw a media scrum outside her house. Should the media leave Kate Middleton alone? http:news.bbc.co.uk/2/hi/uk_news/6245061.stm
3 responses

•
17 Jan 07
There is a certain amount of déjà vu isn't there .. but hopefully this time the people who sort out the Royal security will step in faster and will be more forceful with the press .. We simply cannot afford another scandal .. another young woman hounded day and night .. but as much as Kate Middleton may wish to keep out of the limelight she has to accept that she is possibly about to step into the worlds spotlight .. Of course, if we stopped buying all those 'sensational' celeb mags she wouldn't be so newsworthy ..

• Ireland
17 Jan 07
I would say she is definitely going to be harassed by the media if she gets engaged to Prince William. After all she become heir to the throne and the media will follow her around just like they did to Princess Diana. I don't agree with it, but every job has it's price and that's the price they have to pay for being royalty, and wouldn't we be complaining if there was no news coverage of the comings and goings of the Royal Family.

•
17 Jan 07
IMO yes, but I am giving an American perspective on this. I think unless she asks them to please follow her every move, they should leave her alone. People can be so cold and uncaring at times. They seem only focused on that dollar and can care less what they may be doing to another human being.