Do you embarrashed if you drive this car?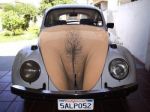 Indonesia
10 responses


• Philippines
17 Jan 07
at first sight it is part of woman's body but as you see further it is a tree...i've seen this already in the vwcp site. at first i laughed to the owner of that car but then i realized it is an art that would make people think...

• Canada
17 Jan 07
lmao omg i would never drive that anywere..although my husband prob would just becuase..but i think that would not be apropiate whatsoever to be drivng around in public


• United States
17 Jan 07
Because so many poeple are first viewing this car as looking like part of a woman's body, no I would not want to drive it. But since it is obvious that it is meant to be the artwork of a tree, I would not have a problem driving it only for that reason. But I would worry that too many people would think that it was not supposed to be a tree and would get offended at the sight of the car. So I would really be better off not having such a car! *laugh*


• Malta
17 Jan 07
I would not either. lol. It simply takes a lot of courage do paint your car hood like that!!

• Canada
17 Jan 07
While I admire than artwork done here,I do not think I would want to drive this car.Not because I would be embarrassed as much as getting into too many arguements on who posed for it.

• Philippines
20 Jan 07
I would not drive that car nor paint my car that way. The artwork was great but having it go around in public? Won't you get arrested for indecent exposure driving this car? I don't think anybody would drive this car around. By the way, forjosie, is this car for real or is it just a work of a very good graphics editor. just curious...