Romanian Surgeon...

United States
January 17, 2007 7:50am CST
Did you guys hear about the Romanian Surgeon who cut off a dudes p*nis while performing surgery on him? He was suppose to be correcting a birth defect of the dudes testies when he lost his temper and cut off the patients p*nis. As if that wasn't bad enough he then proceeded to chop it up into little pieces before leaving the room! The patient only got $200K and an additional $40K for an operation to try to make him a new p*nis. Is this insane or what?! My hubby said that if it was him that doc better watch his back for the rest of his life. I just heard this this morning on Bob & Tom on my way home from work.
7 responses

• United States
19 Jan 07
OMG! I can't believe that poot man!!! What the heck set that surgeon off like that? Did they say what many have cause the surgeon to be so angry as to cut and chop off a man's p3nis? Was the surgeon a woman??? Someone had to set off this surgeon to go to the extent of cutting off a p3nis and then to chop it up into pieces! What was the surgeon thinking? Here, let me pull a Lorena Bobbit...but this time no one will be able to sew it back on!? Come on! What the heck did that man do to deserve his p3nis to be chop off and up like that??? And $200k???? That's it??? How about a billion dollars? Please tell me this man is going to sue this surgeon for everything!!! Just close that surgeon's back accounts and give everything to the p3nis-less man!!! I have got to go look this up! That is just insane!!!

• United States
19 Jan 07
It was actually a man and they said he'd been under a lot of stress. That's all they really said about him. I couldn't beleive that's all he got too! It's just insane!! They said the nurses in the room just stood back and stared at him. I guess they were afraid they'd be chopped up to if they said something. They did say the thing that actually set him off was he goofed up and acciedently cut something he wasn't suppose to.

• India
18 Jan 07
what happened to surgeon ... is he jailed or not ......

• United States
18 Jan 07
I don't know. I don't remeber if they said or not. I don't think he did though!

• United States
17 Jan 07
What can I say? How can anyone possibly respond to this? Poor man! I wonder what happened to the surgeon? ~Donna

• United States
18 Jan 07
I don't think I remember them saying. Of course I was in complete shock over the fact that all he got was $200K. That certainly wouldn't happen in America.

• Romania
19 Jan 07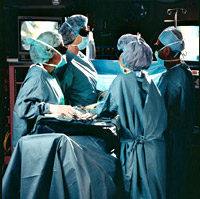 Well guys, after a short serach on the internet, i found this article, on an romanian portal: "Doctor Naum Ciomu, sent to court for grievous bodily harm in October 2004, was convicted Tuesday, January 9th 2007 to one year of jail with suspension on certain terms by the Courthouse of Bucharest's 5th Sector. He must also pay moral compensations worth EUR 125,000. The court also suspended Ciomu's right to practice for three years and obliged him to pay material compensations worth RON 9,000. The sentence may be appealed in the Bucharest Court." Good news is that the pacient is recovered, his p*nis being attached back and functional!

• United States
19 Jan 07
WOW. Thanks for that! But just year in jail and three years suspended - that's not nearly enough.


•
16 Feb 08
My God that's terrible! I hope the surgeon was never allowed to practice again too he's obviously a very dangerous head case! I've heard of things like that happening like that accidentally but to do it just because he lost his temper is beyond belief, and then to cut it up into pieces is unforgivable as it couldn't be re-attached even. Imagine what the poor man must have gone through, bad enough to have a birth defect to the testes, it must have taken lots of courage to have the operation on such a delicate area, and to wake up and hear that happened must have been awful! I think the guy deserves more money than that too.

• Philippines
28 Apr 07
i hope that surgeon rot in prison.