How do you withdraw your mylot earnings from e-gold?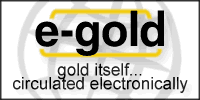 Romania
3 responses

• India
17 Jan 07
hi buddy you are true. E-gold actually works with gold and its pretty complicated. i wasted more than an hour trying to figure out how to withdraw from e-gol and got fed up. I then asked my friend and he told that e-gold minimum payout is 150$ but when i asked him how to withdraw it even he was not sure. well i'm not sure if u can transfer your money to your bank account. I suggest you to use PAYPAL.com as it is the best online bank and in paypal you can transfer the cash to your bank acoount or request a check and they will ship it to your address for 5$. SO i advise you to use PAYPAL as it is very user friendly and the safest online bank.


• Canada
17 Jan 07
In a nutshell, you have to have someone buy the egold from you. In Egolds website you can find a list of companies that for a fee will purchase your egold and give you cash, either deposited to your bank account, or sent by check through Western Union, now most of these companies or at least the ones I have seen have a minimum amount of egold that you must have in order to sell it. The easiest way I have found to sell egold is do a search on the internet for "egold exchange" Hopes this helps.