Do u believe in paranormal(GHOSTS)?

India
January 18, 2007 12:21pm CST
hey friendsu see a lots of horror movies and lots of stufffs about ghosts.....so do u believe in ghosts????
8 responses


• United States
18 Jan 07
Yeah me too, theres gotta be strong evidence to prove that ghost exsist otherwise I'll remain skepticle.

• United States
20 Jan 07
I dont believe in ghost and according to science a magnetic field without a source is called a ghost. P.S. But i dont think this is the rite place for this discussion. Dont get offended just thought i should inform thats all. take care.

• India
19 Jan 07
ya paranormal activities exists not the way..they show in the movies ....in a diff. way

• Philippines
18 Jan 07
personally i don't believe in those kind of stuff. people are scarier than those kind of stuff.

• South Korea
14 Oct 10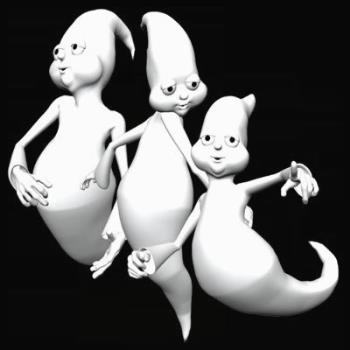 Yes, Realy I'm very intresting about this topic.And ihave lot of real ghost picters and some videos.If any one need its i will give that things without paying please contact me.hansanaweragoda
@gmail
.com.Ghosts are wolking!!!!!!!!.........Hooooooooo.Did you here GHOST are shouting.


• Malaysia
2 Jul 07
im sure there are ghost always exist around us.we can't see them,heard them as they can't see and heard from us.i believe that we're living in same world but different dimension,thats why some peoples would see paranormal when the two different dimension cross over.