Family Portrait

United States
6 responses

• United States
18 Jan 07
My husband and I just had the first portraits done since we got married. We just had our 12th anniversary. Yes I said it took 12 years to get him in front of a camera. lol If it takes another 12 years I might have to kill him. lmao

• United States
18 Jan 07
You should do that. My hubby and I got our pictures taken right after our wedding. A pro came home with all the equipment and we got our pics taken and also got family portraits done.I had to come to the US after that so its been a year now. It feels nice to look at such pictures. I have couple of them hanging on the wall.

• United States
19 Jan 07
Me and my husband have never gotten our pictures taken together and we have been together almost 17 years including the year we dated. He seems to have a photo phobia. He will pose for pictures for family taking them but not professional and even so we haven't had our picture tooken together in almost 11 years. Not that I haven't ask,pleaded,begged he just won't maybe he is afraid I will break the camera..

• United States
19 Jan 07
We have never gotten them tooken together professionally. But we had one taken by my sister in law who was visiting from another state 11 years ago with her camera. Sorry I bungled the first response.

• United States
19 Jan 07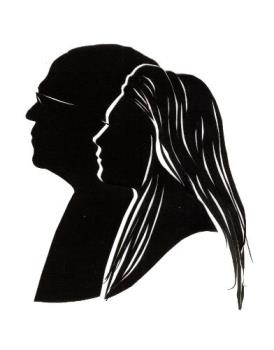 I do my own, but I am a silhouette artist. I will show you my husband and me. I hand cut it out 100% using only a pair of scissors freehand. It is a lost art, and very difficult. Look at my website: www.mgcreativearts.com Watch me on video cutting: http://mgcreativearts.com/Finall.wmv

• United States
18 Jan 07
My hubby is a big fan of portraits.after our marriage we both had three portraits taken by the professional in the nearby portrait studios.after our child's birth once in 3 months we are taking portraits.Really they are nice to see our child's growth and her naughty activities and her big smile in a bigger portraits.They are coming very nice and a sort of rememberance.even though i try to take ,it wont come as like the one that has been taken by the one in studios.

• United States
18 Jan 07
Gosh. My family hasn't had a portrait done for years and years. We really could use a new one. I can't even think of the year that our last one was taken. It seems like it was when other family members were visiting that we rarely get the chance to see. Yes, my aunt and my cousin were also definitely in the photo. But that was quite a long time ago. It would be nice to get one done this year.