Color of the eyes

Italy
9 responses


• United States
19 Jan 07
Mine are a blue-green hazel...they change colors with my mood,the color clothes I wear or my eye makeup. One guy said I had "funky eyes" and a friend has a special nickname for me, "Bright Eyes".

• Italy
19 Jan 07
Thanks Bright Eyes ;) I think you have very beautiful eyes.

• United States
19 Jan 07
I love my blue eyes. They earned me the nickname Pretty Blue Eyed Angel.

• United States
26 Feb 07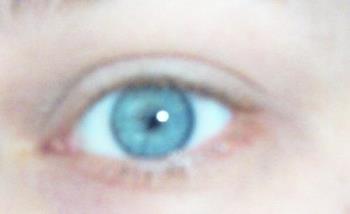 Mine are baby blue. When I was younger, I hated my hair and eye color because it signified the 'white' race... blonde hair, blue eyes. People actually called me white-racist names. I'm not prejudice and it bothered me a lot. I didn't want to be connected to 'slave-drivers' or 'white supremacy'. Now that I'm older (and wiser), I love them! I think my eyes are my best physical feature and they ARE my favorite color; ) I can change my hair color/style as often as I like but I would never change my eye color.


• Philippines
19 Jan 07
well i have dark brown here..uu