any dog whisperer fans here???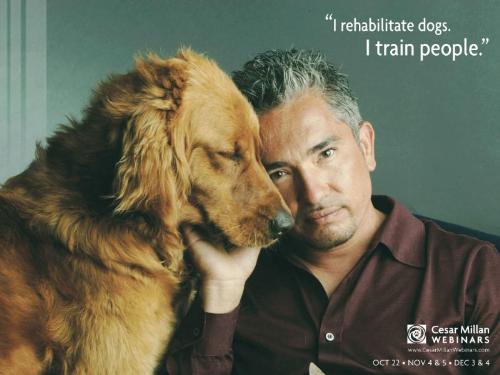 United States
10 responses

• United States
25 Jan 07
Yes, I do. I have a dog, an aussie named Billy Boy, he is a work dog. Yet he doesn't have much of a workload these days. So he has bad habits because he is bored. Cesar says that dogs behave badly when they are bored or do not get enough excercise. My daughter sent me his book and DVD. So I started retraining him, like relaxing and walking beside me on a short leash. Also I have been taking him to the beach where he can use up his energy and that is working for me. I also decided to get him a dogpack to carry some weight on walks. Cesar's advice is well taken, he is amazing and knows a lot about dogs and their pack behavior. He is awesome

• United States
29 Jan 07
Thanks for the reply...Cesar is amazing! :) I agree with you!

• United States
25 Jan 07

Oh, yes I watch the dog whisperer all the time. I love Cesar Millan. Have you read his book "Cesars Way"? It's a very good book. I keep it in my car so I can read it when I am stuck waiting somewhere. The story of how he came to the US all alone and with no money is incredible. He truly is an amazing person.

• United States
29 Jan 07
No I havent read his book yet but I do plan on it! :) I agree with the amazing person! He is! :)


• United States
29 Jan 07
Thats cool! :) Cesar does have good Techniques. :)

• Atlantic City, New Jersey
11 Aug 07
Absolutely a huge fan of Cesear Milan, the dog whisperer. As a matter of fact, as I am writing this, I am watching another episode about a dalmation puppy that is reaking havic at his him in the fire department.

• Atlantic City, New Jersey
12 Feb 10
My favorite episodes tend to me when he comes to a home where the owners were told by other professionals that there was nothing that could be done for the dogs aggresive behavior- then Ceaser comes in and saves the day showing the family that a dog- and its owners- can be rehabilitated!! I love this show. Anyone see Rescue Ink? Love those guys too!!



• United States
25 Jul 07
I watch Ceasar Millan at least once week. I enjoy his show, even though I don't have a dog. I also like the fact that Ceasar features disabled people in his show a lot and doesn't feel bad for them. Instead, he treats us like regular people with minds.

• United States
29 Jan 07
I do! I l ove that show, he's awesome. Wish it was around when my dog was a puppy, many years ago.

•
29 Jan 07
I saw the show once here in the UK. I wasn't aware that it was on over here. Not sure if it was a one off or not. I really enjoyed the show. I do hope it is on again. I may need to get my friend in the states to record it for me!

• United States
29 Jan 07
Its cool to watch him work with someones dog and it makes the owner feel so humble. They are like 'I've never thought about that!'. The owner ussually needs as much or more training than the dog. lol