do u like honey?

Pakistan
January 19, 2007 9:30am CST
i love honey becuase its taste is so sweet like honey itself.i prefer honey instead of taking sugar.
6 responses

• India
20 Jan 07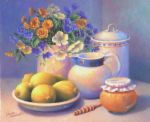 The best combination would normal room temp water with honey, lemon, black pepper and little salt at the morning or evening time would certainly help you not only in reducing the fat but fighting so many other problems with your body. Important: Honey should never be taken with hot drinks. According to ancient Ayurvedic literature, honey should never be cooked. If cooked, the molecules become a non-homogenized glue that adheres to mucous membranes and clogs subtle channels, producing toxins. Uncooked honey is nectar. Cooked honey is considered poison.



• United States
19 Jan 07
Hi, Sheena I love sugar myself. I also use it on fruits, oatmeals, tea, biscuts. Honey is a good source of engery and. I grew up on honey, whats funnie is that alot of people dont use honey. You got good taste.....One Love SisterLove