Child Prodigies...Have you seen Noah?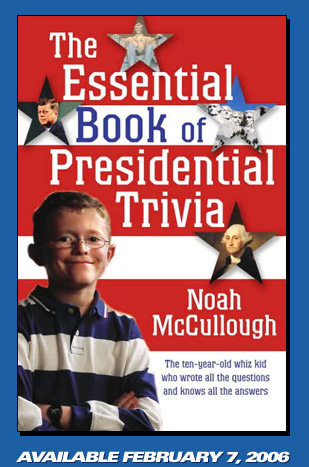 United States
January 19, 2007 3:31pm CST
Noah McCullough has been called a presidential prodigy. Even though he's only in fifth grade, he plans to run for President of the United States in 2032. Having read over 250 books about the commanders-in-chief, Noah impresses with his vast knowledge of presidential trivia. He's had the opportunity to challenge some of the biggest names in politics on presidential trivia—and he usually wins! http://www.noahmccullough.com/
2 responses

• United States
19 Jan 07
Oh darn. There go MY chances of being elected. *grin* Wow, hard to believe that in 10 short years he can bypass people that have been in the field for years! Although, I'm sure he would need more than just knowledge of presidential trivia to serve as our officer in chief. However, with that being his goal, he will likley be sure to obtain the knowledge he would need, as it sure seems to be determined to achieve his goal!! I know people twice his age who don't have 1/8 of his determination and drive! Go Noah!

• United States
20 Jan 07
I watched him on Oprah today. Boy is this kid good. It wouldn't suprise me if he did run for president, he's so intelligent.