What is Love?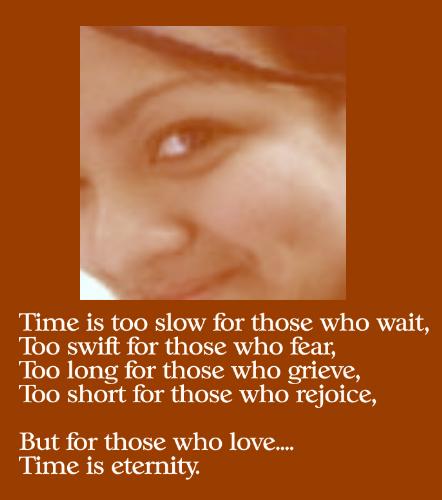 Philippines
4 responses

• India
20 Jan 07

I think that everyone loves, but to be "in love" that's a whole different battlefield. It's hard to tell the difference between, like, lust and love and in love. You just know it. You can't give a perfect definition on love, because they are so many levels of it. The man I'm in love with is the one that makes me smile, even when I'm angry, he makes my heart skip a beat every time he's in the room, to hear his voice makes me feel like a little girl, he is my everything and will be to the end of time. As far as age is concerned, no, I don't think you can be in love at any age. You haven't experienced life yet! You may have heart-breaks along the way to lead you to "Mr. Right". All of which is a learning experience. But, good luck to what you're in search of it'll all happen one day and you'll just know "I'm In Love"! happy mylot day.

• Romania
20 Jan 07
Love is allowing someone to Hurt you, But trusting them not to! Love is giving someone the key to your heart and expecting them not to lock your heart up. Love is being yourself around someone even when you feel uncomfortable, Love is anything you want it to be as long as you don't have to act like somone else, and you can trust the other person with you life, Love is feeling a pain every time that person is so many miles away and not being able to say " I LOVE YOU" Check deep down inside of you, Love to you and Love to me is 2 diffrent things, But the one thing to know is Love when it comes to you, You will know it, You will get this feeling that you have NEVER known before, and you won't be able to say I think, You will Say "I KNOW" get it?

• Philippines
20 Jan 07
God gracious! You almost made me cry... Waaahhh! I was so touched by your answer. Thanks for responding.