Have you ever been in a car crash?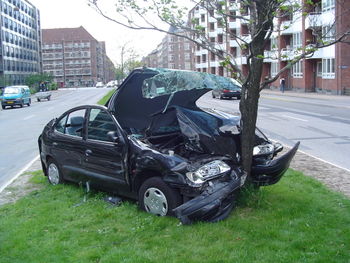 Australia
6 responses

• Saint Vincent And The Grenadines
4 Feb 07
i was in one last week actually....an underaged jerk with no license hit me as i was waiting by a traffic light......he was drunk and was escaping from the cops as he had skipped a check point...after hittin me he tried to escape again but finally he got arrested its the most serious one i've been at. I didnt get injuries but the person who was with me in the car has the whiplash on the neck and my car is a bit ugly at the moment lol

• Australia
4 Feb 07
Glad to hear you were ok :D My sister was in an accident with my Mums car about 2 weeks ago. A car went straight through a roundabout as she was already in the roundabout. The car was a write off and everyone was ok. The other guy wasn't insured! Mum got a new car about a week ago and shes very happy with it (its alot nicer than the old one)

• Australia
4 Feb 07
Its amazing how many people seem incapable of negotiating a round about. So many times in round abouts, you see someone looking the wrong way and they pull right out in front of you. I mean you give way to your right, and people already on the round about, how hard is that? I hope the new car is going well :-D




• India
20 Jan 07
yup.. i have been in a CAR CRASH... and I BEt it was a NAsty one........... AN suv had hit us..... and we went into a 360 degree turn

• United States
5 Feb 07
I have been involved in two car crashes. One was my fault and one was the other drivers fault. The first one was the other drivers fault. This is how it happened. While going home one evening, I stopped for a red traffic light. When the light turned green I pulled out into the intersection only to get hit on the drivers side of my car by a Ford Pinto Station Wagon at an estimated 60 MPH. He hit my car so hard it rolled my Chevy Impala Convertible. I ended up with a car that was level with the hood. I was very fortunate to end up with just a few scratches on the back of my neck. My car was not so fortunate. It would not drive straight down the road after that. I was wearing a seat belt at the time. I credit that to saving my life. My other wreck was my fault. I fell asleep at the wheel of my Ford F-100, and drove right through a stop sign. I hit a small Buick on the passenger side front wheelwell. I hit it so hard that it knocked the tire off the wheel on the other side of the car, and bent the fender on the drivers side. I pulled the fender out right there and popped the tire back on the wheel and aired it up and fixed the fender properly, later. I was wearing my seat belt on this wreck, also.

• United States
3 Feb 07
I took out our mail box one time when I had my learners permit. Made a HUGE dent in the bumper, but fortunately it came out most of the way.