Where Are You Mandy?

Philippines
January 20, 2007 9:06am CST
Mandy has been my favorite since A Walk to Remember days... And then now, where is she? Don't we miss her? She's got a nice voice and she's good in acting... I hope to see her in movies again or hear her sing new songs. She is not active in the entertainmemt business nowadays... i wonder.
7 responses

• United States
23 Jan 07
I agree Mandy Moore is one of the more talented women. She has a beautiful voice and is incredibly inspirational. I know that she is in an upcoming movie with Diane Keaton but I forgot the name of it. It's coming out soon you might have seen the previews. You could always look her up. I really like her too. She is so pretty. I would say out of all the young pop singers she is one of the more talented ones. She does also have a movie out, I saw it at the video rental store. She will probably come out with more movies and possibly another album or two. I'm not sure what she is up to now, maybe cuddling with wilmer, I heard they might be back together, but I know one thing we have definetly not seen the last of her.

• United States
23 Jan 07
Yeah, you're right, she is just not around anymore. Maybe she is taking a break to make a family or something like that.

• Romania
23 Jan 07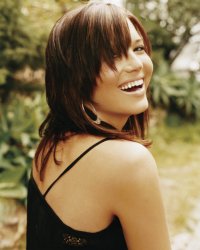 Agree, she was indeed extraordinary in "A walk to remmeber". You should check another movie of her - "American Dreamz". She's a complete artist and her music and acting, playing various roles are good statements. Looking further to her future work.

• United States
25 Feb 07
She IS in movies and such still..she is in a movie at theatres right now called: BECAUSE I SAID SO

• Philippines
2 Mar 07
I am not aware of her new movie... hmmm... so now, i know... guess i'l watch that movie soon.


• Philippines
20 Feb 07
i read in a magazine that she've been in a deep depression last year. but she's now coming back to the industry with a new album (i'm waiting for it to come out) and hopefully a new movie. =)