Hell and Heaven..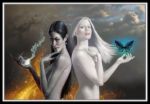 Philippines
January 20, 2007 10:32am CST
A man died and went straight to hell. There he saw great long tables with bowls of delicious food. The man was amazed by this sight. Even more amazing were the spoons that lay beside the bowls. They were a full meter and a half long. When one tried to eat with them, one couldn't get them into one's mouth. So everybody in hell sat looking at the delicious food and starving. The man asked if he could go up and have a look at Heaven. Up he went. Again there were great long tables laid with delicious food. Again there were great long spoons. He asked someone what the difference between Heaven and hell was. The answer he got was very clear: "In Heaven, we use the spoons to feed each other!"Can you reflect what this means to us?
8 responses

• United States
20 Jan 07
I am familiar with this allegory. We are needing to feed each other. We do this in lots of different ways. I even believe that some of what we do here on myLot is feeding each other, helping and supporting each other.



• Philippines
24 Jan 07
" THE ART OF GIVING" This is my reflection, one should first understand the meaning of heaven and hell. Hell is the world of the greedy where greed is the source of all evil . Jesus said" Love your neighbor as you love yourself" where a greedy person is already exempted from the context of the word. Now we go to heaven, a man asked Jesus " How will a person enter the kingdom of God", He said to the man," Give all your belongings to the poor and follow me" The man was very sad for he is very rich. Jesus said' it is easier for a camel to enter into the eye of a needle than for a rich man to enter the Kingdom of God. By these statement, Heaven and hell is on earth, it is the way we live our lives. Do we love our neighbors? do we share what we have to the needy? Do we know how to give or care for others? If we do, then, we are living in the hands of God, were by giving, we experienced the bliss of heaven. The long spoon are the acts of giving and sharing to one another, where, the delicious food are the grace of God recieved by the giver. The greedy gather riches that rot, the giver have riches that only God can see. I wish you realised my reflection my friend!

• United States
21 Jan 07
That's an excellent analogy. I'll have to send that to my sister inlaw, she teaches at a christian school. This would be a good one for the kids. It really does make you see how we all need each other.So much can be done when we work together and nothing when we don't. Thanks for sharing it with us.

• Kuwait
21 Jan 07
Wow... It's Interesting! discussion;) It shows that the people in hell when they are alive they didn't forgive the people who made a mistake to them, they think that they are God they a very2x selfish attitude. For those belong to heaven they are a God fearing, and they didn't expect if they are going to hell or heaven because only our Almighty God can make a decisions where is the best place for us. If it's beside him or to the hell.