I want to learn how to do my own acrylic nails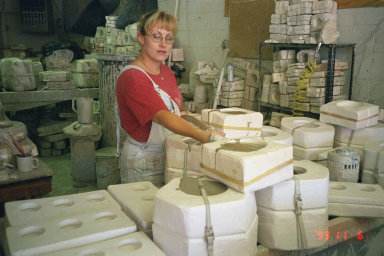 United States
January 20, 2007 12:31pm CST
My fingernails don't grow for squat,they peel,and break,and drive me up the wall. In addition to the fact that my hands are short and stumpy, they're also chubby,so I want longer nails;not mile long or anything,just a sporty finished look,ya know?Several months ago,I went to a nail tech that goes to my church. She charged me $45 for a full set of acrylics that were lopsided on 2 nails,and looked unfinished compared to what I've seen. This was my first and only visit to a salon in my life,and I'm not impressed. I worked in ceramics with my mother for over a decade,so I decided to try it myself. Um, I'm not very good at it..LOL Even after filing and stuff, it looks bumpy;I know I'm screwing it up,but after she butchered my cuticles,I'm never going back{besides, I can't really afford that}So, if anyone has any good tips/advice,I'm open to all:) Lela
2 responses

• United States
20 Jan 07
im a cosmotologist, and do nails also. it is not as easy as you think. i prefer not to do my own nails and have another tech do them because it is faster.. if you are interested in learning, why not go to a nail technician school (in wisconsin it is combined with hair), i'm sure you could learn well, and possibly make some money at it too.

• United States
21 Jan 07
My mom went to cosmo school back in the day :) you're right; I should have another person do them... I'm just so stubborn..LOL Thanks for the advice :) Lela

• United States
20 Jan 07
Your funny. I had them for about a year till one day I was sick of paying every two weeks to have them filled in, so I ripped them off. I liked the way they looked and I didnt have to go to a saloon, one of the girls I work with she did it on the side. But I still had to pay her.So if you can find someone who does them at their home you might enjoy that better. I dont know what else to tell you.

• United States
20 Jan 07
LOL I'm with ya on the expense; I dunno;I really want to learn to do them right:)