which one are you? are you a dante or an edward?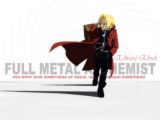 Philippines
January 20, 2007 3:27pm CST
from the fullmetal alchemist: dante: "people can say there is a balance, a logic for every reason, but the truth is far less designed. no matter how hard you work, when you die, you die. some spend their entire life trying to scratch their way to the top and still die in poverty. while others are born into wealth without ever working at all. its a cruel and random world and yet the chaos is oh so beautiful. equivalent exchange is a myth, a contrived order to give sense to a world that has none." edward: "humankind cannot gain anything without first giving something in return. to obtain, something of equal value must be lost. that is alchemist's first law of equivalent exchange." so which one are you? do you believe in equivalent exchange, wherein everything you gain must always comes with a price, or do you believe that equal effort does not always mean equal gain...
5 responses

• United States
20 Jan 07
I don't think I'm either. I believe in balance, but not the cut and dry tangible balance that Edward subscribes to. Edward can't shake the idea that balance follows certain, specific laws. I believe that it's more fluid and loose than that. The gains and losses aren't always equal, and they aren't always immediate. But I don't dismiss it out of hand - and I wonder if Dante truly believed that, or if she had just grown so powerful that she subscribed to her own rhetoric.

• Philippines
22 Jan 07
but remember what hohenheim said, about equal exchange doesn't always have to be what you expected. what may be seemingly of equal value to us, may not be equal at all. and so life may be giving us equal return, but we are far too blinded by what we think our rewards should be that we tend to overlook the real price/value of what was given to us.

• Philippines
2 Nov 07
Well me, i watched this anime series before... and i believe in " equivalent exchange, wherein everything you gain must always comes with a price " but thats what is happening in our world today, because of so many cruel and greedy people that exist today... some hard working people losses there right to gain the equal price for there work! Good day!

• India
2 Nov 07
i believe... in equivilant exchange... in life we always get back a equuivilant amount of opposing reaction dependin on our reaction... for hard work, determination and consistency and faith... we gain sucess..

• Canada
27 Mar 07
I believe in Equivalent Exchange, because it works for everything. If you kill someone you will get the feeling of guilt and the chance that you will be put in jail and possibly be killed.

• Philippines
23 Jan 07
i believe that equal effort does not mean equal gain. There are other factors that also affects your decisions. Sometimes you give, even if you know you will gain nothing although there are people who expects something in return I dont usually wait for them to give me something I do it because of many reason.