What's on the Sunday morning breakfast menu at your house?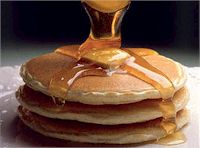 Canada
8 responses

• Canada
21 Jan 07
My wife and I usually get up early Sunday morning and go out to breakfast together, we don't get to spend to much time together through the week with our schedules, so Sundays is our day to get caught up on each other and our weekly experiences.

• United States
22 Jan 07
For my husband the only real breakfast is bacon or sausage, eggs, and toast, so that is what we generally fix on Sundays. Therefore, when I get hungry for pancakes or French toast, I make it in the evening (we have our main meal at lunchtime now). He's always more than willing to eat it then.

• United States
22 Jan 07
We love scrambles for Sunday breakfasts. You just fry up some onions and cubed potatoes along with whatever meat is leftover...then add about 6 eggs,seasoning and whatever cheese is around. The leftovers make great breakfast burritos for eating on the way to school or work!


• United States
21 Jan 07
Sunday morning breakfast is the best.. Usually we get up and make- pancakes with real maple syrup (from a local place in Perry, NY).., home fries (I always cook potatoes the night before for dinner) with peppers and onions, bacon/ham/ or sausage, sometimes scrambled eggs, toast and hot cocoa-- YUM-- This is a brunch by the way-- Breakfast and lunch- After eating this who could eat lunch? Sundays are lazy days! On football sundays we continue with fun things for dinner. homemade pizza, chicken wings, etc...

• Italy
21 Jan 07
Today I have ate a piece of cake. Was very good!

• India
22 Jan 07
its plain salad, bread, and some fruit juices with egg too

• United States
22 Jan 07
I actually went out to breakfast this morning with my friend. I had scrambled eggs and toast. Mmm. It was good.