SUGAR How much do you use?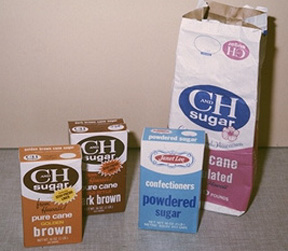 United States
January 21, 2007 10:39am CST
. Did you know that the average person uses 2-3 pounds of sugar each week. highly refined sugars in the forms of sucrose (table sugar), dextrose (corn sugar), and high-fructose corn syrup are being processed into so many foods such as bread, breakfast cereal, mayonnaise, peanut butter, ketchup, spaghetti sauce, and a plethora of microwave meals. Did you know that vitamin C and sugar compete to inter your blood cells? When you eat sugar the immune system slowing down to a crawl. Simple sugars have been observed to aggravate asthma, move mood swings, provoke personality changes, muster mental illness, nourish nervous disorders, deliver diabetes, hurry heart disease, grow gallstones, hasten hypertension, and add arthritis. Sugar can promote an elevation of harmful cholesterol (LDLs). Sugar can increase total cholesterol Sugar can increase the risk of coronary heart disease. Sugar can contribute to weight gain and obesity. Sugar can cause atherosclerosis Sugar can increase blood platelet adhesiveness which increases risk of blood clots and strokes. Did you know that supply of cancer's preferred fuel: GLUCOSE Do you consume a lot of sugar. Do you know where the hidden sugars are in your foods. When you read labels do you also check the sugar content? Check it out here http://www.healingdaily.com/detoxification-diet/sugar.htm
4 responses

• United States
25 Jan 07
Agreed sugar can be the culprit in many problems. Along with the fats, blood glucose circulates in our systems for maximum performance. The problem is with all the added 'ose' sugars in our foods. The closer you can eat to the garden the better off you are! The fruit purees qualify!

• United States
31 Jan 07
We stand in agreement. Hopefully in our lifetime we shall see the truth being reported about all our food! thanks for best response!!

• United States
26 Jan 07
My mother is diabetic and so we don't use alot of sugar. A 4-5 pound bag of sugar will last us about 3-4 months we don't like alot of sugar in things and usually try to eat it without or drink it without sugar.Diabetic run in the family so we all have to be careful of it.

• Spain
21 Jan 07
I like sugar but i dont like use a lot because its dangerous for our teeth, in my oppinion the honey is as good as the sugar and is very good for me, have a nice day on mylot and happy earnings also.