What makes Britney Spears so famous?

Philippines
January 22, 2007 12:38am CST
I just don't get it. What makes Britney Spears really famous? She does not have enough vocal prowess to show. She's pretty, but there are still singers out there who's prettier than her and even sings better than her but became not as famous as her. I just don't get it.
6 responses


• Philippines
10 Feb 07
I don't think so. Britney Spears has also a nice voice. She also have nice songs though not all because some it were too liberated. But still, she's famous because many people were impressed by the way she handles herself in the camera.


• Philippines
8 Feb 07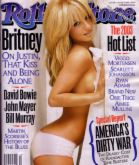 Britney Spears possesses a charisma that makes people want her more with each performance. She dances fabolously during her shows/ concerts and she have a great smile. Britney really have a funtastic appeal to her audience.

• Philippines
30 Jan 07
Maybe she has her own way in making people liked her... we just don't know what is it, maybe she knows what to do in her career or maybe she always show who really she is...the important thing in this world is everyone of us have differences... everyone is unique.