Do you like Hernan Crespo?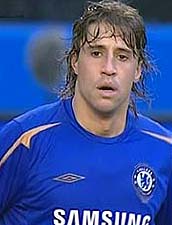 Romania
January 22, 2007 2:19am CST
I think it's one of the most greatest player ever...he played for Parma,Lazio,Milan,Inter,Chelsea ...he's a great striker...what do you think?...
8 responses



• United States
21 Jun 07
I rate Crespo as one of the est strikers in the world. He is world class and as a Chelsea fan I was gutted when he left for Italy.

• Argentina
19 Jun 07
hola laysha, como estas? (how are you?) you speak in spanish really? conozco a hernan crespo, el vive en mi ciudad, es un gran jugador de nuestra seleccion Argentina. espero que entiendas lo que escribo, sino tratare de escribir en ingles, un beso :)



• India
26 Jan 07
Crespo has the flop in chelsa,but he performed really well in Italy ,so i cant make any comment

• Portugal
23 Jan 07
Well, I used to like him only upon two occasions: when he started playing in Europe, for Parma, and I see those as his best days of his career. Then when he moved to Milan I wasn't happy for the trade, since I'm an Inter supporter. Then when he moved to Chelsea, I realy like what he produced around EPL, but he's decided to move back to Italy and even if he plays for Inter nowadays, I have to confess I don't like him so much, since I'd prefer him to have remained in England, at Chelsea, which is a team I like more.