Dog spa. What do you think? Would you take your dog?

United States
January 22, 2007 9:35am CST
Seems in Wisconsin there is a dog hotel and day spa. The 'Woofdorf Astoria' has everything from nurseries for small dogs, multiple play rooms, and outdoor play yard, 24-hour staff, and a movie room where dog-themeed movies play continuously. It is staffed 24 hours per day with vet techs. When the dogs become tired, they retire to their suites. So, what are your thoughts? Would you utilize a facility like this for your pet? Have we taken it too far?
5 responses

• United States
31 Jan 07
No i think this is great. they haven't taken this too far at all. It is about time that they started treating our 4 legged friends as well as they do humans. I would definetly use a hotel that offered this service. I hope they bring one to Iowa soon. We love to travel but always have to make arrangements for our dogs. We always get a pet sitter. I think this would be a great alternative.

• United States
30 Jan 07
Nah... my dogs don't need a spa. They prefer a weekend in the woods, running around, sniffing things and sleeping in a tent!!!

• United States
30 Jan 07
I can think of a million different ways to use my money. I would much rather use any extra money to help a person in need than give a dog a day at the spa. I love my pets, but they are animals for pete's sake! There are kids running around without coats this winter.

• United States
22 Jan 07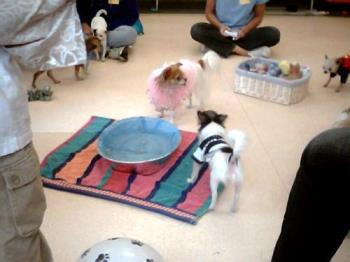 Yes I saw an article abbout it just the other day. The rates don't seem to bad for what you get. It said it's $12 for a half-day of day care, $22 for a full day, and $36 for boarding. I wonder if they have alot of clients? I don't think I would send my dog there for a vacation..lol I usually take my dog with me on vacation. He loves it, we stay in pet friendly hotels. The first thing he does is run around the room like a nut, checking it all out. After that he starts gathering his toys into a pile, then he drags his blanket next to the pile. That's where he will sleep, when you can get him to sleep. He will usually drag out a sweater and put it in his bed also. I guess he wants to be prepared in case of a fire or something. He wouldn't want to have to run out in the cold with no sweater, silly dog. We don't have a dog spa near us. We do have several "doggy daycares" Too expensive for me as I don't really need them. Gizmo has his MeetUp Group friends to play with. http://www.meetup.com/

• United States
22 Jan 07
I think it's a great option for people who travel frequently and want to be sure that their pets are well cared-for in their absence. I know that it would kill me to think of my pets being cooped up in cages in a kennel while I was off enjoying myself on vacation. So, if they can afford it, why not?