Does your baby look like you?

United States
January 22, 2007 10:06pm CST
Do people think your baby looks like you or more like the mother/father? It is funny, but most people say our son looks like my husband, but neither of us really see it. I think at first glance maybe... but if you look feature by feature I don't think they really look the same. I guess I see a little bit of both of us in our baby. He doesn't really look like either of our baby pictures.
8 responses

• United States
23 Jan 07
You probably wont see it till years later when you look back at the pictures. My oldest daughter looked like me and our youngest looked like my husband. Now that they are grown and I look at the pictues of them when they were babies, I can see it but I could not when they were babies.

• United States
23 Jan 07
That's funny. I really wonder what my son will look like when he is grown up. But, I'm really enjoying the way he looks now as well. He's so cute. :)

• United States
23 Jan 07
I think that this is funny; my husband and his family and my family think my son looks like the father, while ALL of our friends and extended family thinks he's spitten image of me. Especialy if you look at my baby picutres. My husband will never admit it.

• Canada
23 Jan 07
Yes, my kids really look like me. Although as they grow older, the look less like me but they still look like me. My son saw a baby picture of me and my dad asked who this was. My son said my baby picture was his little sister. When I saw that picture of me, I thought I looked like my daughter. Poor daughter of mine.


• United States
25 Jan 07
We think our son looks a little bit like my brother as well. There are certain facial expressions that he makes that remind us of my brother. It's funny.

• Canada
23 Jan 07
my two children looks more like me husband than me. For me it doesnt matter so long as they are healty that is all the matter

• United States
24 Jan 07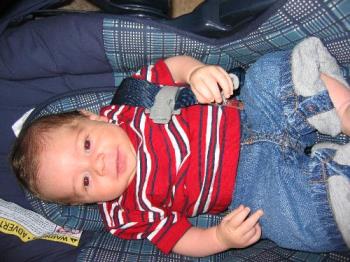 I agree. I know, all that matters is that they are healthy. It is just fun to talk about who they look like and what they might look like later in life.

• United States
23 Jan 07
My oldest & youngest look like me & each other. Our middle child looks just like my husband did when he was baby. The difference is she is a girl.


• India
23 Jan 07
Still i am not yet married. If i am married surely it will be like me