LAMAZE method. Did anyone tried this? Painless normal delivery of a baby.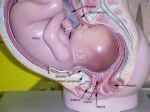 Philippines
January 23, 2007 9:56am CST
I gave birth for the first time at the age of 33. Some says it will be hard for me give birth normally. They say that I must prepare myself to c-section. I was afraid then not until I learned about Lamaze method where you will be taught of proper exercise and breathing while in labor. It really helped me althrough out my labor. Really no pain. You got to try this all you pregnant women out there who's kinda afraid of their coming delivery.
No responses