ms dhoni

India
January 23, 2007 4:11pm CST
k ppl lets just talk about the master blaster keeper that india has discovered in M.S DHONI.so post in your views about this cricketer.
4 responses

• India
24 Jan 07
shall i answer u in one sentence He is the best as sachin .

• India
24 Jan 07
thanx for your response but i think Dhoni is the best but Sachin is better.what say???

• India
24 Jan 07
i think he is one of the better batsmen in the team at present and it will be good if he opens the batting like gilchrist

• India
24 Jan 07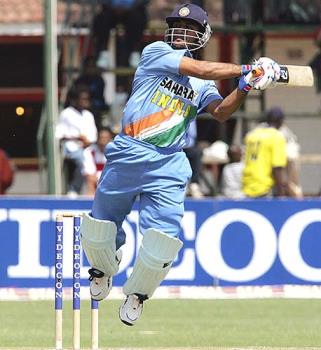 I think even if dhoni loses his form he will in indian team for his safe hands. he is very good in keeping. he should concentrate on keeping first then the batting comes next. But,on field if dhoni plays for just 20 overs it will all the one man army show. I think one day he will sure make 200 runs in oneday. he missed that chance twice. i am sure he will not miss that next time. watch the pic below dhoni hitting six jumping in the air

• United States
23 Jan 07
i really appreciates his talent.within a short span of time he has emerged as a good wicketkeeper/batsman which is a needed to strongup the batting line.he has been made as an idol in the game of cricket next to sachin.He should continue the same.Even sehwag emerges in the arena like this.but we know his pity situation now.Dhoni should not do the one as done by sehwag.He should maintain the form.