Gold Fish

Palatka, Florida
January 23, 2007 4:39pm CST
Does anyone have any idea how long Gold Fish normally live? The reason I am asking I had one of mine die last week. I have had him since 2004 and everyone says that 3 years is a good long time but I am just curious to see what other people have to say about it. It was my favorite out of the 3 I have too Nemo.
6 responses

• United States
27 Jan 07
I remember reading that a fancy goldfish kept in a good, clean tank can live up to 20 years. I know the Japanese Koi can live over 200 years.

• United States
24 Jan 07
I had a gold fish that I had gotten from my grandma. I would say she had him 2-3 years and then I had him 5 years or so. We have tropical fish now and I don't know anything about how long they live. I've had some of them for 3 years and they are still looking great.

• United States
23 Jan 07
i had goldfishes an if i remember right in the book that i readed they can live to to 10 years.i moved recently an i sold my aquarium an my gold fish was 4 years old an they still have them.an a goldfish can go without food for 3 months.. someone can correct me if im wrong.

•
15 Feb 07
Good for you you had them for 3 years. I think it was long enough. I had 3 adorable goldfish who used to enthuse me as I watch them swim up and down around the fishbowl. One time I had to go away for a couple of days and I asked my cousin to feed them. When I got back home I was devastated to see them all floating and bloated. I was mad at my cousin for giving them too much feeds. But what can I do? I asked him to feed them. How my heart sank as I flushed them in the toilet.

• United States
27 Jan 07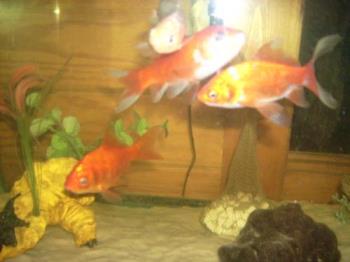 A properly housed/cared for goldie can live upwards of 20+ years. Think I read somewhere the record was around 40??? I have 5 feeder/comet goldies, have had them for about 6 or 7 years now. They're about 8 inches, and doing really really good. Here's a pic of 4 of them, they're in an aquarium now till I can get their pond winter ready, I didn't have all the stuff this winter to leave them outside.

• United States
27 Jan 07
I'm not exactly sure how long their life span is but I had a goldfish for close to 6 years. It was huge. The other ones I bought at the same time did not last as long. I do remember reading that goldfish are very dirty and if you do want to prolong their life you need to add extra amnonia chips to the filter and change half the tank at least once a week. I missed a week here and there but I did see a change in how long my fish lived.