I am part of an exclusive club, apparently.

United States
11 responses

• United States
7 Oct 06
Past age 2. Wow. I can't even imagine doing that. That seems a bit too long.


• United States
9 Oct 06
No, teeth don't hurt. It's a common misconception. Babies actually can't nurse with their teeth, the top teeth don't come into play at all and the bottom teeth are covered by the tongue.

• United States
9 Oct 06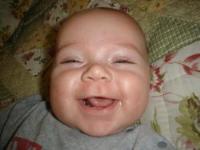 I beg to differ. My baby has chomped down on me a lot lately and he doesn't even have teeth yet and it hurts so bad. I have been bitten with teeth with my older son and it's bled. Here's a picture of the gums that bite me from my 6 month old now...

• United States
10 Oct 06
But they cannot physically bite and nurse at the same time. If they're biting, they're not nursing. If you notice, usually the biting comes when they're starting to slow down and getting ready to be done nursing, or to switch sides, or take a break. There's a pause before the bite, usually. (Keep your finger ready and stick it in between the gums and your nipple when you notice the pause!)


• United States
9 Oct 06
Does nursing make you loose weight, it hasn't for me!

• United States
10 Oct 06
I dropped back to prepregnancy weight right away, but I've always had trouble keeping weight on.

• United States
10 Oct 06
Oh, your one of those kind of women. I definately have curves-ha ha.

• United States
23 Oct 06
I have been on both sides with this issue. My daughter did not make me lose weight, I in fact gained weight while nursing her! My son on the other hand is only 3 weeks old and I'm back at pre-pregnancy wieght already!! Ofcourse I'm not excercising because I had a c-section and I'm not yet fully recovered. He eats much more than my daughter did and I am quickly seeing the results of that.

• United States
10 Oct 06
Good to know! I actually thought 6% was pretty good to still be nursing at 2. It's 5% for nursing at 3.

• United States
9 Oct 06
well i think the kid should have a bottle or something by that age

• Indonesia
26 Jan 07
hmm.. waht club it's truly.

• United States
25 Jan 07
Oh that is soooo sad!! My youngest is almost two and still going strong with nursing. I don't really care what other's opinions are as I know it is what is best for her! Good for you mama!!


• United States
18 Oct 06
My daughter is only 6 months old, & I am not sure how long after 1 year I will nurse - but most likely not past 2.

• United States
18 Oct 06
That seems a bit of a long time to me, I had planned to do it until my son turned one, but I dried up before that. But at one when they need to learn to eat more real foods and depend less on milk I thought it would be a good time to stop. Plus they get teeth.

• India
15 Oct 06
its not a big deal... i think many mothers do that... quite normal...