has anyone defeated 2 insane enemies??

India
6 responses


• Philippines
25 Jan 07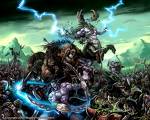 I tried it with some of my friends but I could hardly beat even the Normal game mode. Custom map of Warcraft is really hard especially when the terrain is not favorable to your side. I hate to say this but I never won a insane game so far, only to Dota.

• India
26 Jan 07
dude... to my knowledge i can easily defeat one insane.. the key is upgrade asap and build lot of air units... and try keeping your heros safe.... but i don't kno how to play dota!!! it has too many heroes n inventory stuffs.... and look like the allies will take care of everything!!!!

• Romania
24 Jan 07
two insane computers can be beaten,trust me....but you have to counter them from the begining,harass them,make them teleport to their bases,than leave,steal their creeps and get your heroes strong....do not let them get strong,and expanded,cause if you do you do not stand a chance. good luck :P