Have you ever scolded by someone other than your parents?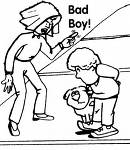 India
January 24, 2007 8:25am CST
Yeah, i was scolded only once, on my school days, by my computer teacher because I was little dumb in computer in those days and can't answer her questions. And until now, I haven't. What about you?
3 responses

• India
25 Jan 07
i was scolded all the time in skool by my teachers..wondering y..?il simply say i was one of the black listed gurls 4m my skool..with a coupla other of my friends..so there really wasnt any day when we werent scoleded or reprimanded!!!though the scene in college is totally different now!!and there's also my eledr sisyers who keep scoldin me even nw..!

• India
25 Jan 07
So you did a lot of fun in your school days. And truely enjoyed it. But being smaller one in our house the way we get scolded by our elders (mostly by sisters or brothers). So have a nice day, and thanks for yours comment.

• Philippines
25 Jan 07
Yes I was scolded by my boss a year ago. I can't forget when it happened. I was assigned to network a computer and a VOIP phone then. It was my first time to do so. I don't have an idea how it works. But, I think my boss is expecting too much from me. It took me 3 hours and boss was waiting for me to finish my job. But, I can't make it work! That's when he almost scolded me and told me "Where's your brain?". I asked him back, "Do you know how this is done?". He said "No.". I was raging in ager then.. but I have to give in.. anyways, just an employee.

• India
25 Jan 07
yeah, persons have to suffer in these situations, especially as an employee. I hope, you do yours best. Best of luck. Thanks for the comment. Have a nice day.


• India
25 Jan 07
That so bad. Thanks for the comment. have a nice day in mylot.