kids fighting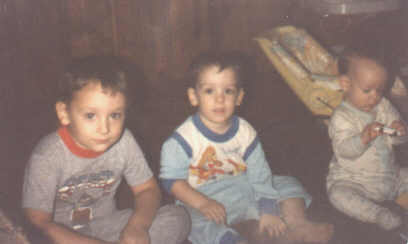 United States
January 24, 2007 10:02am CST
I dont understand this at all. my children are 4 (girl) and 2 (boy) years old. They fight all of the time. They can't even be in the same room without fighting. I'm about to loose my mind here and i don't know what else to do. Why are they acting like this? what can i do to get the fighting to stop?? please help!!
3 responses

• United States
24 Jan 07
I know how you feel. I have 5 ages 11,11,10,10, and 7 (no twins) and they fight all the time. the 4 oldest are boys. It dont get any better the older they get. at least not for me.

• United States
24 Jan 07
man, you're going to have your hands full when they all become teenagers

• United States
24 Jan 07
I know just what ya mean! As a kid I remember fighting with my brother all of the time and making my mom crazy. Now, as a parent my kids do the same and it drives me nuts. I think its pretty natural for siblings to do this. Its probably because they live in the same household. I dont know that there is an actual way to get them to stop forever, but maybe justtry a little normal disipline and see what that does.

• United States
24 Jan 07
I think you have a strong point here...lol

• United States
24 Jan 07
It could be a lot of things. I know when I was younger I used to fight with one of my older brothers a lot, but it was in my early teens. He was very abusive towards me. My father left when I wasn't even out of diapers, and was abusive towards my mother, so that could be a reason. As a mother of 3, I noticed my kids fought a lot less since I came out of an abusive marriage. They saw things they shouldn't, and acted on it, which is normal. But there are many kids that just fight because they're just fighters, or because of jealousy. And knowing your kids ages, I think it's common for a lot of parents. Two of my children are a year apart, and they used to really fight like Hell. It's gotten better, but what you have to do is probably separate them, put them in different rooms, take their favorite toys away, and don't give them treats if they don't deserve it. Good luck to you!