parenting classes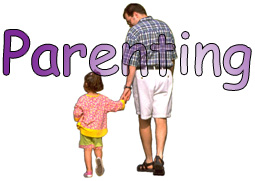 United States
9 responses

• Canada
24 Jan 07
I think you should go to parenting classes. i go when i want opinions on things. which is what they give you there, recommendations, you dont have to do what they say, but they can give you some good idea's when you've run out, and plus it gets you out of the house and some time to spend with some actual ADULTS!

• United States
24 Jan 07
I feel the same exact way... that's why i have been going to classes for the past three weeks now. and i love it

• Philippines
18 Mar 07
If they offer it here in my place, i would definitely go. When my baby was born, my husband and i were totally lost at times. I wanted to ask my mom about stuff regarding my baby and how i should do at times when he got sick because i don't know if i was doing the right thing with him, but my mom lives in a different country. so i had to just rely on pure guess. Parenting classes would be a great help to parents, specially for those first time parents.

• United States
6 Mar 07
I took a baby parenting class right before my first baby was born. It taught us how to change diapers and swaddle the baby. That's all I can remember! It was a little helpful.

• United States
7 Mar 07
Usually some things that are being taught in a parenting class are helpful. And other things aren't really helpful because we already know those things. but it's always good to learn something new.

• United States
6 Mar 07
I think its a wonderful way to get other input on parenting ways. In fact I am signed up for one at my local church. I can't wait. I'm a new mom and its sounds fun. However my husband is agianst the idea of someone else telling us how to raise our kid. I guess it just depends on you and what you feel best with doing.

• United States
7 Mar 07
Parenting classes aren't really about how to raise your child. I am taking them right now, and i have two classes left. It goes over things that children seem to do, and how we should react to them. We talk about household rules, and behavior mostly.

• United States
25 Jan 07
Parenting Classes are always a good thing, no matter what phase of parenting you're in. We're not born with an automatic knowledge of how to raise a child, how to discipline correctly or in ways that may be better options than what we grew up knowing, etc. Parenting is a constant learning journey, because with each child new and different challenges or concerns arise. Sometimes just hearing that other parents are going through the same thing you are is relief in the parenting stress. Learn new ideas, hear new suggestions, confirm what you already know to work and adapt all the information to form your own Parenting style. Classes never hurt, if anything you just might learn something that could really be useful and/or be able to enlighten others to new ideas or options too.

• United States
25 Jan 07
I couldn't of said it better. thank you for the reply

• United States
24 Jan 07
I took a displine class. It seemed like every thing came nataly to be but displine so I needed to get a little help with it. I think it helped me out a lot. The class has helped me to grow to be a really good mother to my three children.

• United States
24 Jan 07
I know where you are coming from. I have three children myself. I think their goal for the day, is to see how many times they can push my buttons. I haven't figured out how to decipline them very good, some times they just don't care. Good luck to all parents :)

•
24 Jan 07
hi, i went to some sort of parenting classes when my child was first born just so i knew about everything to do with parenthood, they were useful and helped me alot! :)

• United States
24 Jan 07
I'm glad to hear that the classes were very helpful to you

• United Kingdom
31 Mar 07
I really don't know I have never been to any I just went by my Instinct and I brought my Kids up to the best of my Ability and they are wonderful Adults now I think it is how you think they should be brought not how someone else thinks you should bring them up It should come Natural

• Philippines
25 Mar 07
I think it's a good to take parenting classes. Because some parents has no time scanning the books while at home, because of being so busy with the household chores, attending needs for the children and become tired the whole day. It's good for the parents so that the lessons makes add to their knowledge, and this can help them not only as a parent but also as a person..