Cats vs Dogs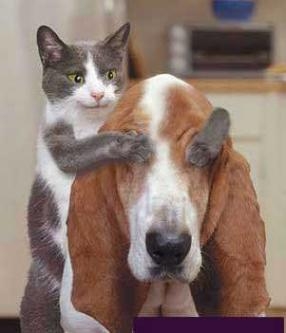 Pakistan
10 responses



• United States
25 Jan 07
Hi there...I personally prefer cats, but love both. Although dogs tend to be more loyal to their masters, cats are loyal...just to their stomach. ;-) Both can be friendly depending on how well they were socialized from birth as well as individual temperament since each definitely have their own distinctive personalities. There's a old cliché saying "dogs have masters and cats have servants".

• United States
25 Jan 07
I like both. For example, I like my sister's dogs, but don't like to walk them. One of the dogs, Chloe, is a husky breed and just loves to run. The other, Aries, is a barrel-shaped dog who loves to eat and happens to like cat food. But both dogs are coexisting peacefully with a stray cat that my sister adopted and named Moochie. Moochie loves to be petted and doesn't seem to be afraid of the dogs.


• United States
25 Jan 07
I like both cats and dogs, but my favorite is the cats. I have two rascal cats that are my best buddies, that never run out of ways to touch my heart and who take real good care of the house - as guard cats. My oldest cat, Mr. Max A. Million, is almost 20 pounds and shows no fear of dogs. He has sent German Shepards running away whimpering with bloody noses. He's a very cool cat. Max's latest trick is to purr while "whispering" in my ear. Our other cat, Opie Taylor, has been learning his new tricks from Max. Makes for a very interesting household!


• United States
24 Jan 07
I like both. I use to have a dog years ago she was a black lab. and she was the greatest. But now I just have my cats at least you dont have to walk the cats. I think both cast and dogs can be loyal to you if you treat them right. You will have friends forever.

• United States
26 Jan 07
iprefer dogs,i think that tey are more loyal and friendly, and smartr as well, cats lay around all day sleeping eating and using the litter box, dogs can go places with you, you can teach them new things and they can be lifesavers. yes definatly i think dogs are way better

• United States
25 Jan 07
Hi! Well I must say that I have owned both cats and dogs and dogs are definitely more friendly and loyal! The cats that I had were okay for occasional affection but it had to be on their terms! However every dog I have owned has always been right by my side and is always full of unconditional love and is very loyal.