Do you fear or embrace aging?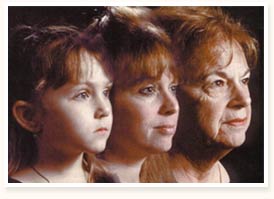 Canada
January 24, 2007 2:52pm CST
Do you fear aging or embrace it?We have yetb to find the eternal fountain of youth and to be frank i dont think we ever will.We are all going to get old and must at somep point face it.But in facing it you dont have to like it!Many people do whatever they can to reverse the signs of aging or cover them up.There is now so many prcedures,surgery,creams,pills and face masks out their to "improve" yourself.But i guess what i dont get is why you would want to cover up or get ride of you life?You body and face show everything you have been through.For example wrinkles.People try so hard to cover them up but they just proved that yousmiled,laughed,talked,enjoyed and expressed your slef through out your life.So my question is Do you fear or embrace aging?Would you have a procedure or surgey done?
3 responses


• United States
24 Jan 07
I completely embrass and enjoy getting older. My best reason, the alternative to getting old is dying and I would much rather be here with my family.

• India
24 Jan 07
neither i fear nor would i like to embrace aging. its a natural phenomenon and has to be accepted and so would i accept it without any kinda feelings!