Indians Indians Indians!!!!! Happy Republic Day!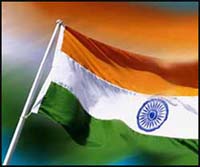 India
January 25, 2007 12:37am CST
Happy Republic Day! Guys tell me how will you celebrate Republic Day, what will you be doing in this day. Please tell me..
2 responses

• India
25 Jan 07
same to you buddy and i am leaving you some useful tips to increase your earning the most important one, as i have noticed on most of your post is, improve the quantity of you text try to be as descriptive as possible don't give one liners that wont give you money here on my lot and your grammar wont improve as well

• India
25 Jan 07
Chee thanks for your suggestion, ok in some topics i can write more but some things how can we describe them, i think it's better to think first on what topic i can be much descriptive right. Thank you very much for the suggestion. But still you have given me a very good idea i am so dumb that i am not able to use that. See have you seen these type of dumbs, were you give the essential things, but still they don't get it. Anyways thank you.

• India
25 Jan 07
I intend to watch republic day parade on tv and as usual visit the sites which I can enhance the money earnings.